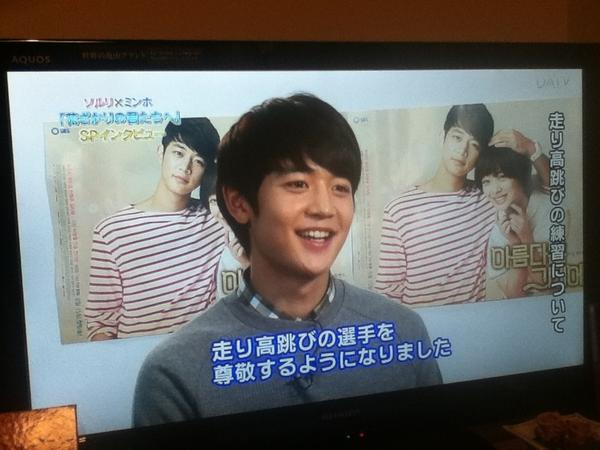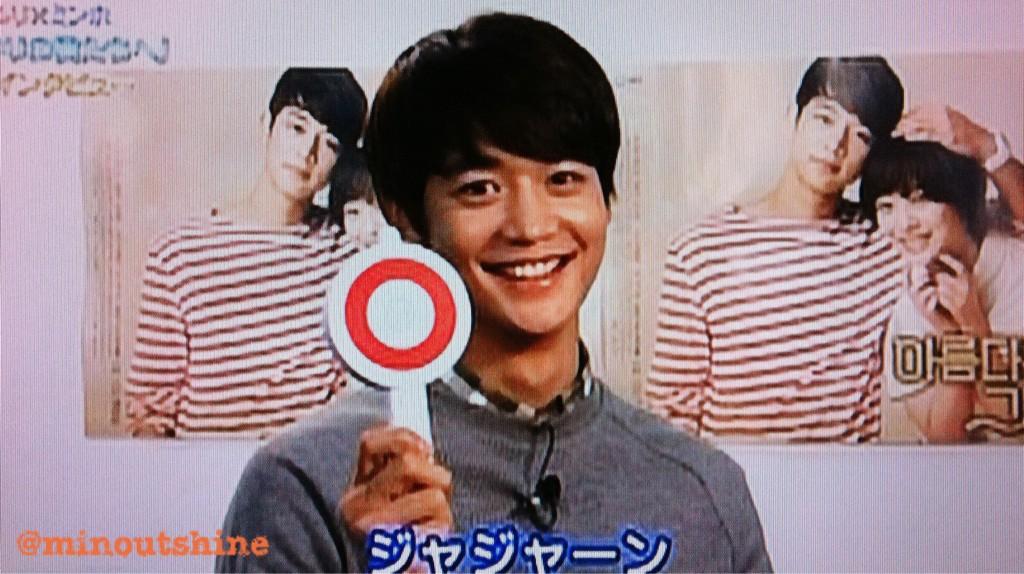 Translated by peach20kr@soompi.com
at 00:57--01:47
Sulli: when I was first suggested (with the role) I was very happy and overwhelmed coz I've been long waiting for acting
but I felt much burdened at the same time coz it was my first drama after being an adult..being at my age..
Minho: I was very excited to play kang taejoon role in TTBY and kang taejoon character made my heart pounding
I was lack of lots of acting experience, so I'd made up my mind to work hard at that time..
sulli is introducing gu jaehee character who got so impressed by taejoon's high jump that she could boldly cut her hair and entered boys' school..
and Gu jaehee tried to do anything in order to make kang taejoon jump again and always stood by him. she's very decisive and woderful character..
sulli said she asked acting teachers and sunbaes what boys' school was like and she got to know boys soemtimes walked aound in panties and they smelled sweat...and she asked for advice and studied about boy's sitting and standing pose and habits.. and so on..
Sulli: I've had a short hair style like this when I was at middle school, so I wasn't so worried about cutting hair and if it suits me..
so, I wasn't hesitant at all to go to the beauty salon, but at the moment I was having my hair cut, I shed tears.. that's because I had long hair for a long time .. I didn'tknow I cried that much either..it was sad..
Minho: Kang taejoon in drama is the character many women like and who's a sport star with attraction of secrets..
and it's also the character who approaches with a cold heart at first but once people get to know him, they want to know him more.. so, it's the character who's attracting people.. because of the cold-hearted and a little mean character, I was struggling to express that character at the beginning but it's the character I could gradually realize coz taejoon's innocent and sometimes outspoken personality was a little common to me..but his cold behavior and expressions are different from me..
Q: do you remember the first shooting day? what were you thinking on that day?
Sulli: well,,, although I had acting experience I started the day with mind of being a rookie ..since I've not acted for a long time, I forgot many things, so I was very nervous on the first day..
Minho: I'll never forget the first shooting day..although I started the first day on a very hot day I was very excited and just happy..actually I was tired and couldn't get enough sleep but I was very joyful and happy during the whole time of drama.
and Minho added he tried to rely on the director and commicate with him as much as possible but the director just encouraged him to play comfortably rather than instructing him. Minho really appreicated that
Minho: the first difficulty I faced with kang taejoon character was the conflict with his father, the communicating way with friends and the attitude towards the girl.. so, I worked very hard on the character for better expressions in drama. fortunately my efforts made the role look more natural..
Minho: as I know they (shinee memebers) couldn't watch the whole episodes, but they tried to monitor in the meantime, I'm very grateful to members . whenever there was a kiss scene, they teased me and made a joke out of it.. and they asked me what the next scenes were about.. when I rejected to inform them, they blamed me for doing that to even close memebers..so they were searching for my script and even trying to snatch them from me. In fact, I really thanked them although they played a joke. during the whole shooting time, I've thought about my members a lot and realized myself depending a lot on them.. I thanked my members for monitoring and supporting me. Now I'm back to my members after drama, I'm feeling the strength of my members again..
P.S: speaking of scent... Sulli is a rose with scent..Krystal is a thorny rose with scent..Seohyun is a rose without scent..well that's my personal thought..(Don't throw me a stone..ㅋㅋㅋ)
the white day is big deal here..(hope I can get some candies from my husband and son) and Black day is April 14th, it's a day for loosers who didn't get love confession either on valentine's day or white day and they just go to the restaurant by themselves and eat noodles with black sauce... and Pepero day is November 11th, It' an also love confession day for men and women by giving peperos (snack shaped like a stick with chocolate on it.. this day reminds me of sneakly going to Lee Minho fansign a few years ago..LOL..)
at 02:29--03:51 (Q: japanese )
Sulli said her similar personality with Gujaehee was that she's a little timid and many thoughts in mind despite she looked active. the different one was that Gujaehee was bold enough to cut her hair but she was not..
Q: If Gujaehee exists in real life, will you like her?
Minho: Yes. since she sacrifices herself for me and comes all the way long to cheer for me as well. if that kind of woman really exists, I'll be attracted to her and definetly like her.
Q: What is your ideal type?
Minho: well, for me, it's the girl whose personality fits well with me and who can wait and understand me, so I can tell Gujaehee is a lot similar to my ideal type.
Q: this was the test about how much you are lovely and your test says you're 50% lovely..
Q: although you can do mildang (mind game), basically you tend to have a frank date and wish to do that.
Sulli: That seems correct..(laugh)
Q: sometimes there's a chance you result in fail after straighforwardly attempting to try(about love), but if two of you fit perfectly (sparkle), your relationship will deepen so fast.
Sulli: That's right. I'm not good at doing mildang (it means "push and pull" in Korean) (laugh) Thank you!!!!
Sulli: there were lots of crying scenes for me . but my best rememberable scene is the one I hugged taejoon crying so hard. at that time both of us really cried hard with overwhelemed emotions coz when I looked at crying Taejoon, I couldn't help crying. Minho oppa and I have a common thing of being sad and crying when looking at crying people. We much counted on each other at that time....
Q: what's the line that impressed you ?
Minho: well, the impressing line is (laighing) .... there's several ... when I first met jaehee , I picked up her underware saying to jaehee " what a unique taste you have!" I'll never forget the line and scene..
Q: tell me the reason why you think it's memorable line.
Minho: that's because of my first line when first meeting jaehee. so, I can't forget it.
Sulli: I remember Minho oppa's line... when I decided to leave the school, taejoon grabbed my arm saying" Don't leave"
the reason I remember it most is that oppa always played a joke to me with the line . when I finished my scene and was about to leave sayin to staff "Keep up the good work", oppa always said to me "Don't leave me Gujaehee" (laugh)
Minho: Sulli is my dongseng I've known well and hoobae I cherished and liked as well. since we've felt very comforatable to each other, we could express our scenes so well in the drama , and it made us so easily to act , too. I really thank Sulli for that. And during shooting, we became so close and reached the extent of telling each other's concern and communicating easily with each other as well . even when the drama is over, sulli still remains as my pretty dongseng and I really appreciate that..
Q: Has your impression about Sulli changed after this drama?
Minho: I would say It's more like I got to know her better than before coz I realized her concerns and thoughts after talking to her, and we became very close enough to feel comfortable rather than saying my impression about Sulli. I mean I'm still getting to know Sulli better (Minho is very cautious about this part)
so, we can become more comfortable and have much chat about our concern as brother and sister..I'm happy about that. (smile)
sulli: Yes, we've become very close friends just like real brother and siter (smile). we are still keeping in touch and checking how we are..
opppa still looked very busy after drama coz he went abroad to perform, so I sent him lots of text messages saying "cheer up, oppa"
Q: Minho said two of you became close enough to talk private issues...
Sulli: That's right. we talked about them a lot..(laugh with shy).. when I had grumps, oppa listened me up well and became a good supporter for me during shooting and even when the drama was over.
Q: there's a kiss scene with Minho, wasn't it a bit shy?
Sulli: Yes, I was shy..since he was oppa I've known before, oh no ...he was just sunbae in the same company at that time..
I said to myself " I've never imagine myself kissing Minho oppa" and then I said to Minho oppa that I didn't know I faced this kissing moment with thim.
oppa said " Right,, I didn't know I could kiss Sulli, either.." (laugh) although there was an awkward moment in kiss scene,
we did very good job.. Frankly speaking I got used to kiss scenes after many times, so I didn't feel any shy..
Minho: well, at first it was OK.. but since the kiss scene required many times, I was rather a bit shy as time went by..
Q: who do you choose Kang taejoon vs. Cha ungyul in real life?
Sulli: I whould choose cha ungyul..
Sulli: I prefer the one who talks to me first and approaches me with familiar and makes me laugh at times. I like that kind of personality.
Q: do you mean your ideal type is just like cha ungyul?
Sulli: Yes, just like cha ungyul..well.. kang taejoon always scorned me and no matter how well I did to him, he told me to go away..
when oppa said the line to me in reality, (probably practicing off camera) I shed tears.. and in the crying scene, I was so sad that I really cried when I heard the line.. I felt so miserable when I heard it (go away) so, I don't like the man who's saying that..(laugh)
Hyunwoo: Minhoya and Sulliya~~long time no see... It's been a while since we saw each other after drama..I'm missing you.. I hope you do a good job at your own role you take a charge of and get good results from that.. since we're often keeping in touch, I believe we can see so soon..
it's a little awkward to do this (laugh) but be well and I love you~~you know that, right?!!(laugh)
Q: This is a psycological test about love.. (something that I can't hear well..maybe love answer) your answer is 50%..
(Minho seemed very suprised coz he didn't know what this test was about)..
You are thoughtful and very humanly a good person (to your lover) but end up being a just nice person in the relationship (I can't hear well)
so, you'd better to learn skills of attracting people with conversation ( humor) and hobby..
Minho: does it eventually mean I'm a nice person but have no charm.??. (saying Japanese and laugh) thank you..
P.S: In reality , Minho took a risk of approaching to Sulli first at sbs gayodaejun ending and he's been so sweet to Sulli in RM (he treated her as a frail baby), he didn't much care about fans' cameras and people.. I admire his attempts and dare.. (i'm a little cautious to say this in the open site, but read some fans spotted Minho taking care of Sulli (either after awards or at the airport last December) and blamed fx manager for only taking care of the rest members and letting Minho take care of Sulli.. from twitter sauce.. believe it or not..) the good thing is that their brother and sister relationship gives no harm to each other so far coz even Minho fans like Sulli coz Minho cherishes her as a sister..and Sulli seemed to be very careful being around with Minho at seoulgayodaesang coz she didn't want to provoke any impression of being intimate with Minho who's about to debut.. I also admire Sulli trying to stay cool and keep a poker face when there's Minho...
and I think it was so sweet of Minho to say "I'm (gradually) getting to know Sulli well"..we don't use that expression between friends and brother and sister thing.. only for lovers.. which means we're at the phase of being sulleim (throb with love)
oh ..well... this vid was about a few months ago , so.....
Minho was spotted in Gundae University today... maybe he attended his class...
Credit to the owners